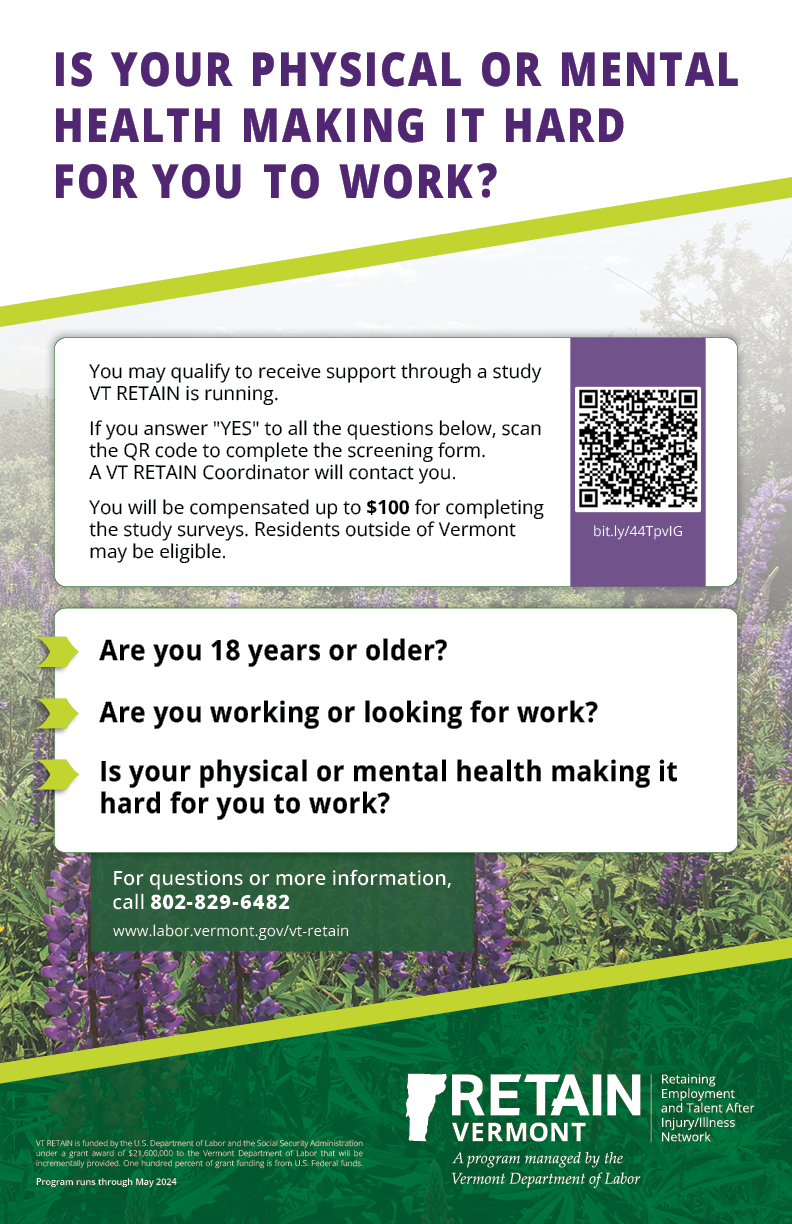 What is RETAIN? 
"RETAIN" stands for Retaining Employment After Injury/Illness Network. At VT RETAIN, we provide support to people who live or work in Vermont and are at risk of work-disability to reduce or eliminate the number of days that person is out of work after an injury or illness. We believe that working is a health outcome and that staying at work positively affects that person, their family and community circles. The VT RETAIN study aims to reduce the negative impact work-disability could have on a person's life by studying the effects that direct support can have. 
Statistics show that unemployment can increase the risk of serious mental and physical health conditions, and the longer someone is unemployed, the less likely that person is to return to the workforce. The VT RETAIN study is built by expert medical and employment professionals, Work-Health Coaches, and experienced coordinators who provide early, personalized support to ensure successful work outcomes. This could be by working directly or indirectly with a person's medical provider or employer, connecting that person with one of our dedicated Work-Health Coaches, or connecting them to training and resources that help navigate complicated work-disability policies.
The VT RETAIN study is funded by the US Department of Labor, Office of Disability Employment Policy (ODEP) and is a joint initiative lead by ODEP and the Social Security Administration. VT RETAIN is working in collaboration with the Vermont Department of Labor Workers' Compensation and Safety Division to provide support to Vermont. 
For more information please visit:
About RETAIN | Department of Labor (vermont.gov)