Workers' Compensation
Vermont State Government employees who are injured on the job are covered under the State's workers' compensation self-insurance program. Workers' compensation claims are administered  by CorVel Corporation. The contract with CorVel is managed by  the Agency of Administration's Office of Risk Management (ORM).
PHONE NUMBER
Main line: 802-522-2179
The CorVel system is not available for online reporting. Please report first notices of loss over the phone, by email or by fax using VDOL Form 1.
For All State Employees except DOC:                          

 

For Department of Correction Employees ONLY: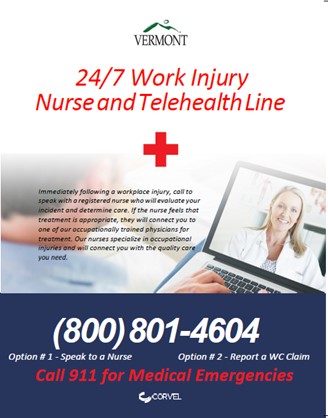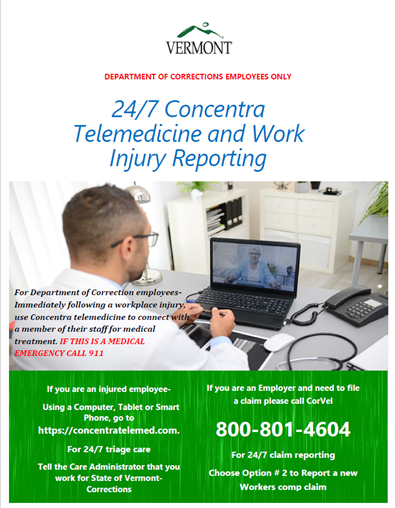 HOW TO REPORT A CLAIM WITH CORVEL
Claim reporting/Telemed instructions
Please log in to DHR LMS and search for SOV Mock Call and Intake Review.
SOV Mock Call and Intake Review (csod.com)
Timesheet Coding for Payroll
Time Reporting Guide for Workers Compensation
TICK BITE? Here's what to do: 
Prevent Tick Bites & Tickborne Diseases | Vermont Department of Health (healthvermont.gov)
Ergonomic safety links and working from home information
Online Safety Course Catalog  - Login to the SOV LINC LMS to access the ergonomic assessment video.
PLEASE NOTE: This page applies to State of Vermont employees only.
---
Rebecca M. White, J.D., Risk Management Director of Operations
Office of Risk Management
109 State Street, 3rd Floor
Montpelier, Vermont 05609-3100
Phone: (802) 793-5347
Fax: (802) 828-0410
All online safety training is available through SOV LINC Learning Management System (LMS)
LOGIN INSTRUCTIONS
Using Firefox or Google Chrome browsers, sign into SOV LINC and browse for training, click on "request" and then "launch" to proceed.
Detailed instructions and catalog on Risk Management workplace safety and DHR websites:
https://humanresources.vermont.gov/training/sov-linc
DEFENSIVE DRIVING EXECUTIVE ORDER 23-2 
Defensive Driving Exec order 23-2
FOR MORE INFORMATION CONTACT:
Risk Management at 522-2179 or
Workforce Development Division, Center for Achievement in Public Service 802-828-2751 or DHR.CAPS@Vermont.gov
SOV's LINC is the Learning Management System (LMS)  for employee training records on all work related topics. The Agency of  Transportation's (AOT)  safety training center is Vtrans Training Center.  The Vermont State Police's (VSP) training center is the Office of Professional Development. The Department of Correction's (DOC) safety training center is  Vermont Correctional Academy.  The Office of Risk Management's safety training system is meant to complement the trainings offered by AOT, VSP and DOC for their employees. If you work for those departments, please follow the directives of your safety officers, supervisors, managers and/or directors before signing up for safety courses through LMS.