OUR PHONE NUMBERS HAVE CHANGED
Main line: 
802-522-2179
RISK MANAGEMENT TPA ANNOUNCEMENT
The CareMC system is undergoing system maintenance and is not available for online reporting. Please report first notices of loss over the phone, by email or by fax.
As of January 1, 2021, all workers' compensation, general and auto liability claims as well as workplace safety will be handled by a new vendor, CorVel. PMA will continue to provide services through December 31, 2020. Employees on workers' compensation will start receiving letters from PMA with details on this change by Monday December 21, 2020. A sample letter is posted below.
 CorVel was the successful bidder as a result of the State's request for proposal issued earlier this year. We are working on the transition process, which involves assigning new adjusters to open claims, notifying injured workers and others the name and contact information of their new adjuster. Payments to injured workers will be made on the regular bi-weekly basis that follows the State pay schedule. Payment and coverage of medical and pharmacy bills will be continued with no interruption.  Medical providers and all other related parties will be notified of the change and provided the Corvel adjusters' contact information as well as all billing information.  We anticipate a smooth transition.
 The State will continue to provide online safety training through Vivid in the Human Resources LMS system.
Risk Management and CorVel have conducted and will continue to schedule more remote meetings and trainings for those involved in workers' compensation, workplace safety and liability claims.  Recorded meetings are available on SOV LINC LMS. Risk Management's website will be updated as new information is released.
For All State Employees except DOC:                          

 

For Department of Correction Employees ONLY: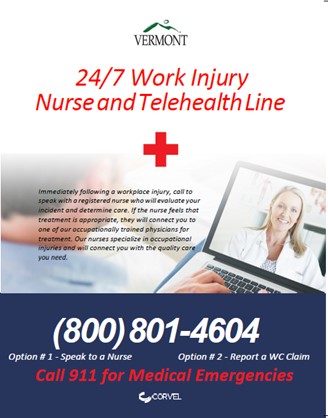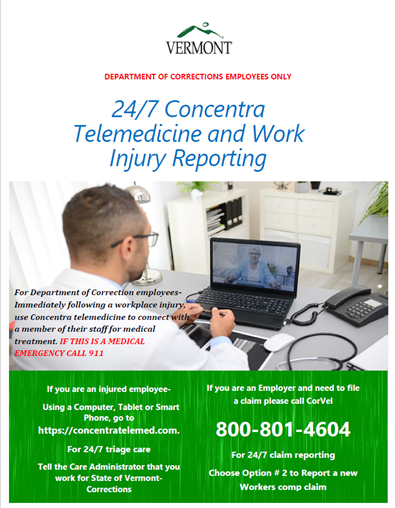 IF YOU CURRENTLY HAVE AN OPEN AND ACTIVE WORKERS COMP CLAIM:
Corvel WC Pharmacy information
HOW TO REPORT A CLAIM WITH CORVEL
Claim reporting/Telemed instructions
CorVel Online claim reporting guide
Please log in to DHR LMS and search for SOV Mock Call and Intake Review.
SOV Mock Call and Intake Review (csod.com)
Ergonomic safety links and working from home information
Online Safety Course Catalog  - Login to the SOV LINC LMS to access the ergonomic assessment video.
PLEASE NOTE: This page applies to State of Vermont employees only.
Rebecca M. White, J.D., Risk Management Director of Operations
Office of Risk Management
6 Baldwin Street
Montpelier, Vermont 05633-3801
Phone: (802) 522-2179
Fax: (802) 828-0410
Workers' Compensation
Vermont State Government employees who are injured on the job are covered under the State's workers' compensation self-insurance program. Workers' compensation claims are administered  by CorVel Corporation. The contract with CorVel is managed by  the Agency of Administration's Office of Risk Management (ORM).
Note: State of Vermont employee Managers and Supervisors, please click this link for instructions on filing a workers' compensation claim online with CorVel.
Link to CorVel's online claim reporting website: https://www.caremc.com/caremcwebmvc/account/login
If you do not have an account with CorVel and believe that you should be a workers comp claim reporter, please have your supervisor email Breanna Hill with your title, name, phone and email - Breanna.hill@vermont.gov
Workplace Safety
Workplace injuries and illnesses produce human suffering, economic and social losses and impair the operating efficiency of state government.  ORM has entered into an agreement with CorVel to assist state agencies and departments in promoting safe work environments through training, program reviews and on-site consultations.  CorVel works with ORM to improve safety in our workplace by conducting injury prevention analysis of reported incidents. The  goal is to examine the incident and conclude what can be done to prevent a similar incident from reoccurring in the future. CorVel also monitors and evaluates statewide injury trends and exposures to determine if they are being properly addressed and makes recommendations to mitigate workplace injuries.
Safety Training         
All online safety training is available through SOV LINC Learning Management System (LMS)
LOGIN INSTRUCTIONS
Using Firefox or Google Chrome browsers, sign into SOV LINC and browse for training, click on "request" and then "launch" to proceed.
Detailed instructions and catalog on Risk Management workplace safety and DHR websites:
https://humanresources.vermont.gov/training/sov-linc
FOR MORE INFORMATION CONTACT:
Risk Management at 522-2179 or
Workforce Development Division, Center for Achievement in Public Service 802-828-2751 or DHR.CAPS@Vermont.gov
SOV's LINC is the Learning Management System (LMS)  for employee training records on all work related topics. The Agency of  Transportation's (AOT)  safety training center is Vtrans Training Center.  The Vermont State Police's (VSP) training center is the Office of Professional Development. The Department of Correction's (DOC) safety training center is  Vermont Correctional Academy.  The Office of Risk Management's safety training system is meant to complement the trainings offered by AOT, VSP and DOC for their employees. If you work for those departments, please follow the directives of your safety officers, supervisors, managers and/or directors before signing up for safety courses through LMS.